LUHAČOVICE
The city of Luhačovice,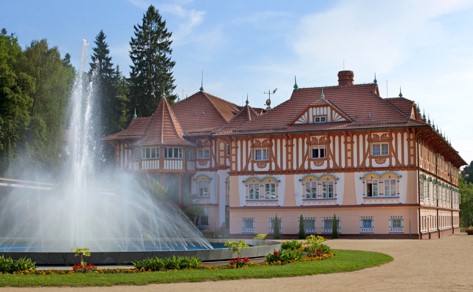 surrounded by the picturesque nature of the White Carpathians, was selected by organizing committee for hosting of the 16th Czech – Slovak Spectroscopic Conference. It lies in the south-eastern part of the Czech Republic, in the Zlín district and occupies a valley, whose elevation is a minimum of 250m above sea level.
Luhačovice are well-known as a largest Moravian span with a long tradition of treatment for respiratory tract, digestive organs, diabetes, and kinetic apparatus dysfunction. Famed are the natural medicinal springs, favourable climactic conditions and pleasant surroundings, in which beautiful nature is wed with typical architecture. On the territory of Luhačovice there are 16 hydro-carbonate-chloride-sodium acidulous waters used in the spa and one is a sulphur spring. Springs contain sodium, potassium, calcium, magnesium, iron, manganese, copper, strontium, aluminium, iodine, lithium, barium, fluorine, boron, beryllium, silver, nickel, tin, titanium and zinc. The temperature of the spring water fluctuates between 10 - 12 °C. Some springs are freely accessible for the public, namely Vincentka, Ottovka, Aloiska, dr. Šťastného and St. Joseph s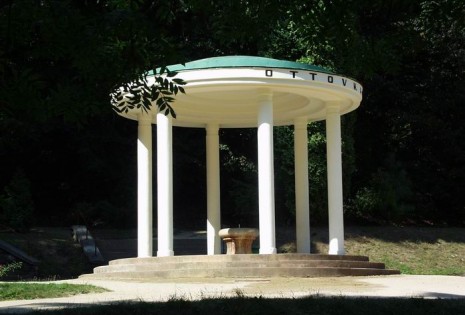 prings, others are used for baths and inhalation in spa facilities.
Irresistible charm in Luhačovice is also given by a architectural works which were conceptualized and built here at the beginning of 20th century by Slovak architect, Dušan Jurkovič. His buildings do not encroach on the surrounding nature, but become its part and simultaneously serve to people for whom they were intended. The Jurkovič House and the Sun Bath rank among the world unique features. His work is the result of efforts to understand the environment in which he lived, to define and understand the people for whom it was created. His goal for the environment and a comprehension of the site can be admired behind of Jurkovičův dům on Lázeňské náměstí (Spa Square), located nearby and the beautifully reconstructed Chaloupka villa today, or in the gorgeous Sluneční lázně (Sunshine Spa), the buildings Jestřabí and the Vodoléčebný ústav (Hydrotherapeutic Facility). All these buildings are evidence of the great art of Dušan Jurkovič, but at the same time they proclaim the exceptionality of the surroundings that inspired their creator.
For more information visit http://www.luhacovice.cz/en//.
HOW TO GET THERE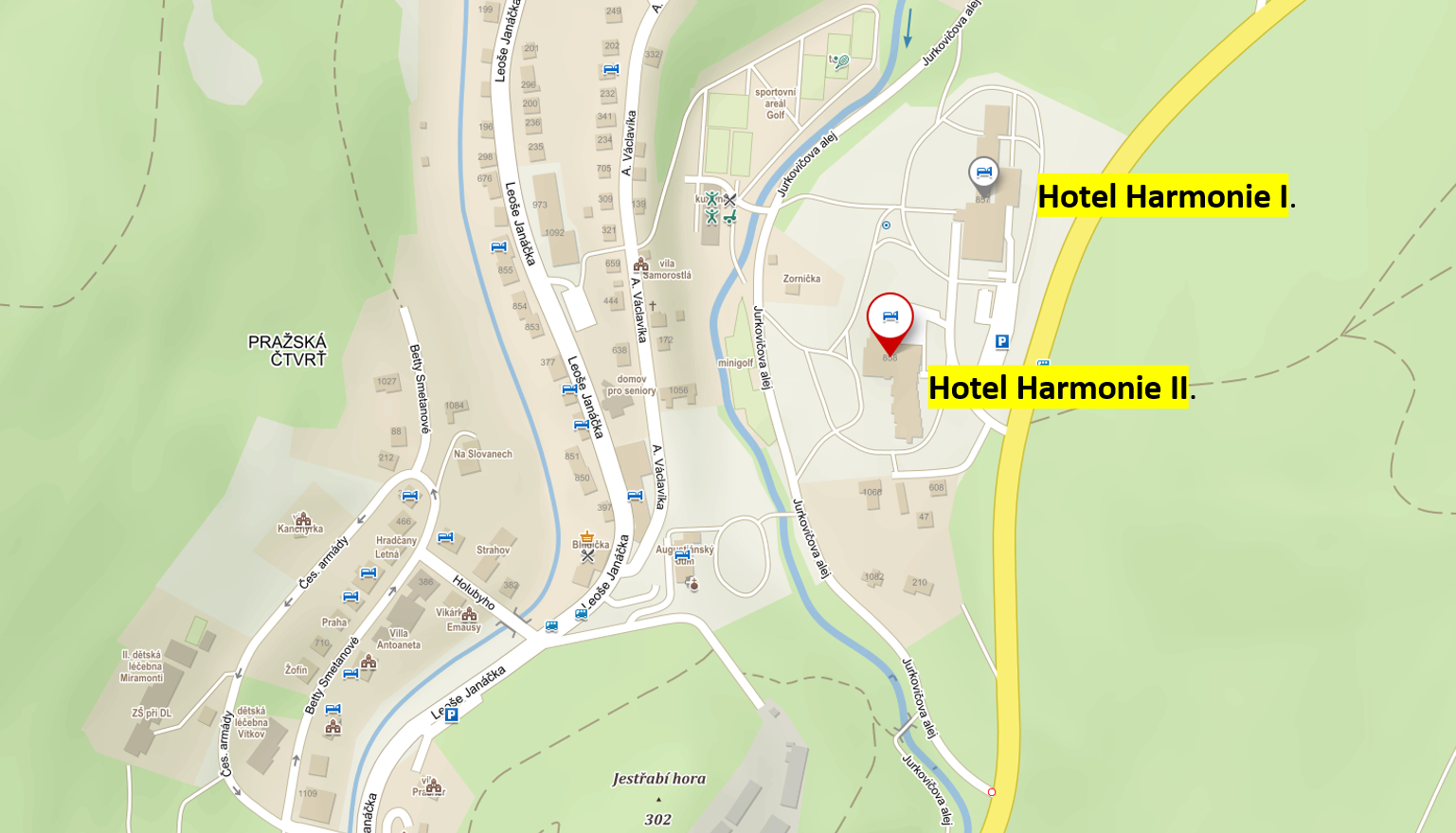 TRAVEL TO LUHAČOVICE
BY PLANE
We can recommend direct international scheduled flights Munich - Brno - Munich (more info) and then travel by train or by bus. Also, easy travel in combination with buses/trains from Vienna or Bratislava airport can be found.
BY TRAIN
There are several direct trains, for example from Prague (e.g. Rx 885 Galán, Rx 889 Jan Amos Komenský, Rx 891 Hradišťan), Olomouc (e.g. Rx 881 Olšava, Rx 887 Buchlov), Hradec Králové (e.g. Rx 883 Velehrad). The recommended changing station for other trains is Staré Město u Uherského Hradiště (Staré Město u Uh. Hrad.) - for example trains from Vienna ( EC 104 Sobieski, EC 201, Polonia, D 100 Moravia) or Brno (Rx 805, Rx 807, Rx 809, Rx 811, Rx 813, Rx 815, RJ 1033 RegioJet). In other case, you can also take some international train from Vienna to Brno (e.g. RJ 70 Gustav Mahler, RJ 72 Bedřich Smetana, RJ 74  Franz Schubert, RJ 76 Antonín Dvořák, RJ 78 Johann Strauss, RJ 370 Joseph Haydn, RJ 372 W. A. Mozart) and then change to other train or bus. Available trains from Bratislava can be changed in Břeclav (or Brno) - EC 282 Slovenská strela,  EC 280 Jan Jesenius, EC 172 Hungaria,  EC 278 Danubius, EC 276 Slovan,  RJ 1038 RegioJet,  EC 274 Jaroslav Hašek) and also in Staré Město u Uherského Hradiště EC 130 Varsovia.
BY BUS
There are two direct connections from Prague to Luhačovice (820245 2 , 820225 10). Direct buses from Brno, ÚAN Zvonařka (820245 12, , 820245 4, 820245 6, 820225 2, 820245 14, 820225 8 ) or buses with change in Zlín can be also taken (some of them arrive from Brno, Benešova tř. hotel Grand).  In case of travelling from Vienna or Bratislava we recommend get on with buses from Brno.
TRAVEL IN LUHAČOVICE
Harmonie Hotels are located cca 3 km from train / bus station and to come there you can use regional transport lines, bus stop - "Luhačovice, zotavovna Fontána" (some bus schedules are available here - 1, 2, 3, 4, 5, 6, 7, 8, 9, 10, 11).  Telephone numbers for local taxi - Taxi OK are 800 88 77 66 and 777 35 10 74.
For more information use www. idos.cz  or www.goeuro.co.uk.